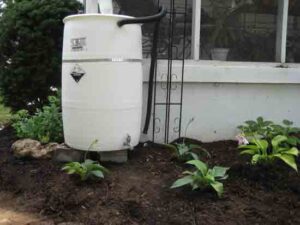 The city of Lenexa, KS is now offering a 50 percent reimbursement for residents and businesses that install stormwater treatment structures.
Rain gardens, native plantings and rain barrels provide a means to capture stormwater runoff and allow it to infiltrate into the soil rather than running off into the street where it is rapidly channeled to streams and ponds, untreated.
Capturing and infiltrating rainwater from driveways, roofs, decks and other hard surfaces helps to reduce the volume of runoff and remove pollutants before it enters our streams, ponds and lakes.
Now Lenexa residents and businesses can apply for a 50 percent cost share to install or build such structures. The maximum reimbursement is $75 for a rain barrel and $1,000 for a rain garden or native planting.
Lenexa received a $10,000 grant from the Johnson County Stormwater Management Program to offer this cost share program. Cost shares will be awarded on a first come, first served basis.
For more information, attend the Healthy Yards Expo from 9 a.m. – 3 p.m. March 31 at the Lenexa Conference Center, 11184 Lackman  Road.
An informational workshop with details on the program will be held from 6 – 7:30 p.m. April 19 at Lenexa City Hall, 12350 W. 87th St. Parkway. Staff will be on hand to assist attendees in planning projects.
To learn more about this program, rain barrels or rain gardens, visit raintorecreation.org.
Contact Mandy Stark, Marketing and Outreach Specialist: mstark@lenexa.com or 913-477-7684.