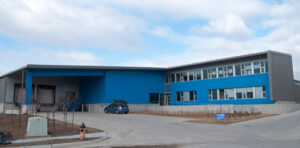 Posty Cards, Inc, a leading manufacturer of  business-to-business greeting cards, received on April 16 its official Leadership in Energy and Environmental Design (LEED) platinum certification, awarded by the U. S. Green Building Council (USGBC). Posty Cards' Kansas City facility is believed to be one of seven manufacturing plants in the United States to earn LEED Platinum certification, the highest distinction available to green buildings.
Proving that even a small, privately-held company can be a big leader in sustainability, Posty Cards' expansion and renovation project – in the heart of Kansas City's urban core – doubled its space and nearly doubled its energy efficiency, dramatically reducing its carbon footprint per square foot. The facility, which grew from 22,000 to 45,000 square feet, is projected to have only a five-percent increase in energy use.
Erick Jessee, president of the 65-year-old, family-owned business, said the expansion was necessary because the company was running out of space. And since Posty Cards was already implementing many environmentally-conscious practices, "the vision for a green building came with the realization that the expansion would allow us to bring our entire operation in line with the company's sustainability goals," he explained.
The building now contains a number of sustainable features including a large solar photovoltaic panel that generates more than 11 percent of total power use, solar-heated water, high-efficiency variable refrigerant volume HVAC, active lighting controls, rain water reclamation for irrigation and flushing toilets, bio-retention and underground basins for managing storm water runoff, and native plant landscaping.
Of the manufacturing plants that have reached LEED Platinum status, Posty Cards is by far the smallest. The company took advantage of many rebates and incentives to help fund the project, including federal and state new markets tax credits and federal solar energy investment tax credits.
"Buildings account for 49 percent of all energy use in the United States, which means that business owners planning to build or expand have a huge opportunity to change the environmental landscape," said Jessee. "Knowing that our expansion would likely be a once-in-a-generation event, we chose to use sustainable building technology to significantly reduce our future energy consumption." He added, "Many Fortune 500 companies are greening their operations, but real sea change toward greater sustainability in this country will happen when thousands of small businesses decide to incorporate sustainability into their business plans.  Given all the advantages and the many incentives available, there's never been a better time for small businesses to get on board."
According to Jenny Bloomfield Sciara, chair of the USGBC Central Plains Chapter, receiving LEED Platinum certification represents a tremendous accomplishment for Posty Cards. "It requires a great deal of work and dedication to obtain Platinum status and I think it's incredible that a small company cares so much about the environment. It is companies like Posty Cards that are making a difference in our world."
The project design and construction teams consisted of McHenry Shaffer Mitchell Architects, PKMR Engineers (Mechanical, Electrical & Plumbing Design), KH Engineering (Structural Design), SK Design Group (Civil Design), Patti Banks Associates (Landscape Design) and Turner Special Projects (Construction Manager). Project funding was made possible with cooperation from U.S. Bank, KCMO CDE, Economic Development Corporation of KC, and the Land Clearance for Redevelopment Authority.
Posty Cards has been helping companies nationwide to build and maintain relationships with their clients since 1948. The third-generation, family-owned company designs, manufactures and sells business-to-business greeting cards for all occasions, including personalized birthday cards, corporate holiday cards, and all occasion greeting cards – plus calendars – at the lowest prices available. In keeping with the Posty Cards' corporate philosophy of minimizing its impact on the environment, all cards are printed with soy ink and many are printed on recycled or Forest Stewardship Council (FSC) certified paper. Plus, cards are packaged with recycled, recyclable and biodegradable materials. The Sustainable Sentiments® line of recycled greeting cards includes environmentally-inspired designs for users who want to portray their concern for the environment. Catalogs are printed on FSC-certified paper. In addition to the sustainable initiatives highlighted by its LEED Platinum certified headquarters and manufacturing plant, 100 percent of electricity used is Green-e certified with 11 percent generated on site via solar panels and the balance offset with renewable wind power. For more information, visit www.postycards.com.
Leadership in Energy and Environmental Design (LEED) provides building owners and operators a framework for identifying and implementing measurable green building design, construction, operations and maintenance solutions. Certification is determined through a points-based rating system distributed across categories such as Sustainable Sites, Water Efficiency, Energy and Atmosphere, Materials and Resources, and Indoor Environmental Quality. Buildings can qualify for one of four levels of certification including Certified, Silver, Gold or Platinum. For more information, visit the U.S. Green Building Council's website, www.usgbc.org.