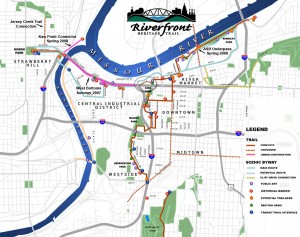 A new section of bicycle and pedestrian trail opened on November 29 to commemorate African Americans who escaped slavery before and after the Civil War. Named the Freedom Trail, it is a paved pathway that begins in the Strawberry Hill area of Kansas City, KS before crossing over the Kansas River into the West Bottoms area of Missouri.
Along the trail in the West Bottoms, the Freedom Mall is a new point of interest on the trail. It commemorates the years immediately preceding and during the Civil War when many slaves passed this point as they sought freedom in Kansas. Four sculptures designed by local artist Ed Hogan depict a slave family as they attempt to escape into Kansas; the sculptures were previously displayed on a wall inside the Faultless Starch building.
The Freedom Trail is a section of the larger 10-mile Riverfront Heritage Trail, a bike and pedestrian trail designed to follow the earliest and most historic parts of this region.
Find out more information about the trails at www.kcrivertrails.org.