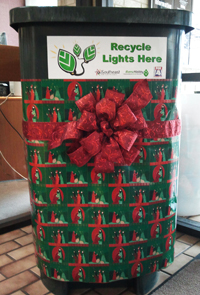 Christmas lights shine on houses and trees- and now in recycling bins- thanks to a new recycling effort in Kansas City.
Southeast Enterprises, in partnership with Mid-America Regional Council, St. Louis Green, Deffenbaugh, BancAbility, Walmart and many others, are sponsoring collection bins at more than 90 locations throughout the metro area for residents to discard their old strands of holiday lights.
Southeast Enterprises will collect the lights, disassemble them into component parts, and send them to the appropriate recycling locations. Megan Gurera, director of business development at Southeast Enterprises, said that they have identified recycling opportunities for the various types of lights and the materials they contain.
"We don't want any of the materials to enter the landfill," said Gurera.
Christmas lights are made mainly from copper, glass and plastic. Sales of the recovered copper and other items will help Southeast Enterprises fund the collection drive and the dis-assembly process.
Southeast Enterprises is a nonprofit organization that provides Jackson County citizens who are intellectually and developmentally disabled with challenging employment opportunities to help them develop and capitalize on their motivation, confidence, spirit and determination by obtaining production contracts from area businesses.
The collection containers will be in place until January 13, 2013. Find out more information and a collection location near you at www.kcrecyclelights.com.