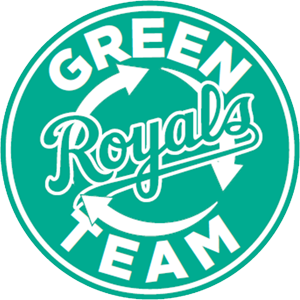 In honor of the Kansas City Royals playing in the World Series, Greenability took a look at the Royals' sustainability efforts from water conservation to food waste. We discovered the greener side of our home baseball team and are doubly proud. Go Blue!
WATER EFFICIENCY EFFORTS
For the Kauffman Stadium fountains, Grundfos has installed a state-of-the-art pump systems to increase efficiencies in water and power use. In addition, as a result of various water reduction efforts throughout the ballpark, the club's water consumption is down 14 percent from August 2013.
ROYALS GREEN TEAM
Royals fans can help support green initiatives by joining the Royals Green Team, sponsored by Republic Services. The group consists of volunteers from local schools, volunteer organizations and environmental groups who collect recyclable plastic bottles and aluminum cans from the seating bowl during select games throughout the season. Volunteer groups are recognized during the game and are invited to stay for the remainder of the game after their volunteer efforts are complete. For more information, visit www.royals.com/greenteam.
ALUMINUM/PLASTIC RECYCLING
In addition to the Royals Green Team, Kauffman Stadium concourses also feature separate waste containers for trash and recyclables. All plastic and aluminum items are also collected from the seating bowl for recycling following each game, and the Royals provide separate compactors for aluminum cans and plastic bottles.
GLASS RECYCLING
All glass materials inside Kauffman Stadium, including suites and premium areas, are recycled in conjunction with Ripple Glass. Nearly two tons of glass was recycled from Opening Day 2014 through the end of July.
FOOD/ORGANIC WASTE RECYCLING
Excess food from food preparation in Kauffman Stadium's main kitchen, along with discarded food from suites and premium areas not donated to local emergency assistance providers, is composted through Missouri Organic Recycling. Approximately 30 tons was composted from Opening Day 2014 through the end of July. In addition, all oil from Kauffman Stadium kitchen areas and concession stands is recycled through Filta.
CARDBOARD RECYCLING
All cardboard from Royals and Aramark operations, including all giveaway and delivery boxes, is collected in a cardboard-specific compactor for recycling.
OFFICE RECYCLING
The Royals front office staff also takes part in the recycling efforts at the ballpark. All office spaces feature containers for plastic, aluminum, paper and cardboard recycling. Office paper is shredded and recycled through Shred-It. Since January, over two tons of paper has been recycled, which is equivalent to 30 trees being saved.
ELECTRONICS RECYCLING
All old electronics throughout the ballpark and office areas are also recycled. In addition, the Royals partnered with Ericsson and Sprint for a cell phone recycling event. During the event, fans who turned over their old phone had the opportunity to meet pitcher Jeremy Guthrie.
SOLAR ENERGY INITIATIVES
In addition to recycling efforts, the Royals have partnered with KCP&L on a solar energy initiative. In 2012, KCP&L installed a 28.8 kilowatt solar system that produces approximately 36,000 kWh of renewable energy each year. In addition, KCP&L installed energy efficient lighting and power infrastructure as part of the Kauffman Stadium renovations.
REDUCTION IN PAPER WASTE
The Royals have implemented a number of environmentally-friendly initiatives to reduce paper waste. In addition to office recycling efforts, the Royals have moved to a digital ticketing system and have made efforts to reduce the number of printed materials by creating electronic collateral pieces and publications, such as the Royals media guide.
PURCHASING OF RECYCLED/GREEN PRODUCTS
The club purchases recycled paper for all office spaces and uses 100 percent recycled or FSC Mix Certified toilet paper and paper towels in all Kauffman Stadium restrooms. All hand soap in office and ballpark restrooms is Green Seal Certified.
This information was originally published Aug. 27, 2014 at MLB.com. Find the story here.