By Katie Pohlman
In the environmental world, it appears Posty Cards has reached the pinnacle of sustainability. But for its president, Erick Jessee, its many accomplishments are just part of the journey, and there are more milestones to achieve.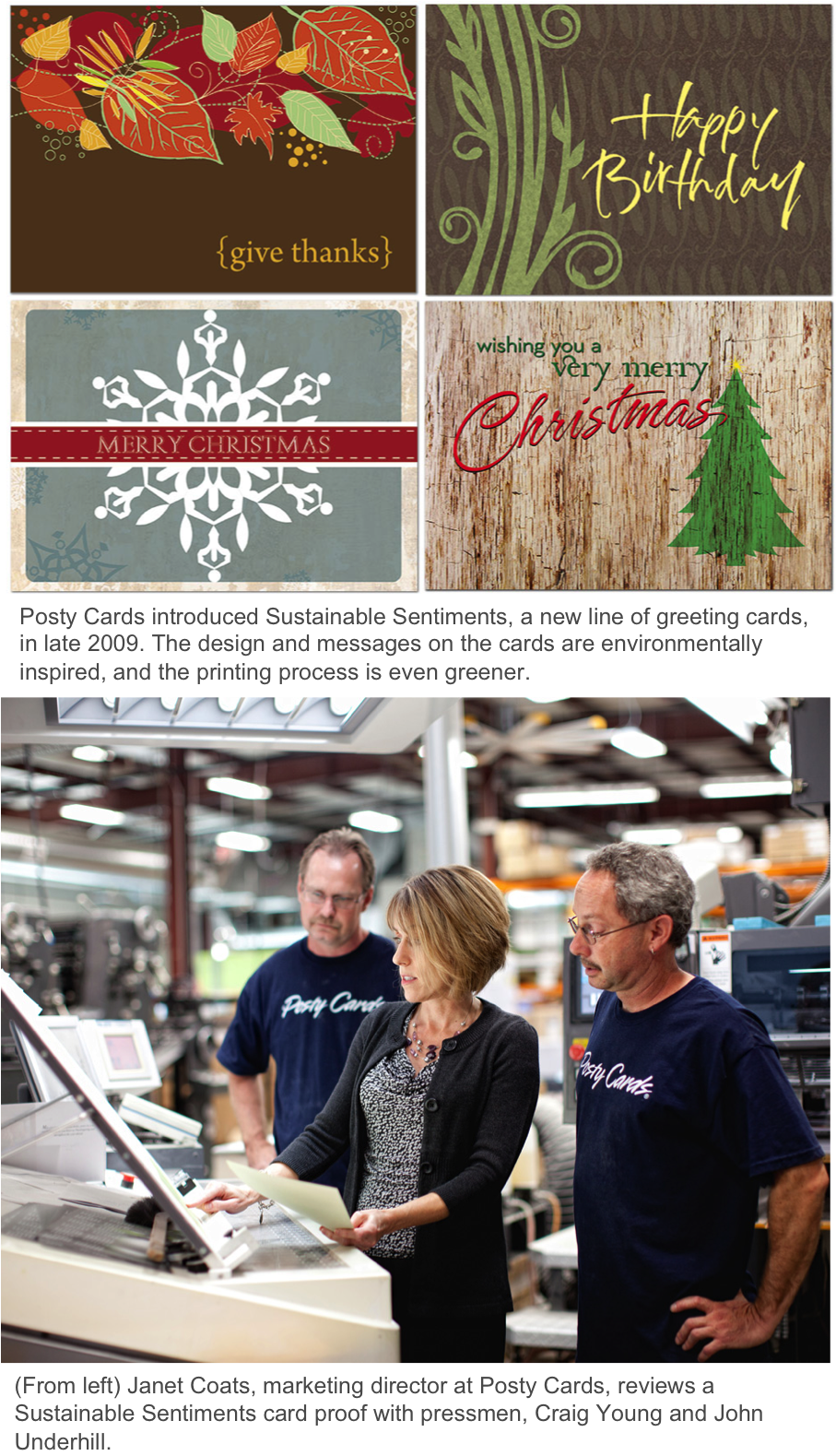 Posty Cards is a family-owned business that has been designing and printing business-to-business greeting cards and calendars since 1948. Located at 1600 Olive St. in Kansas City, MO, the 45,000-square-foot manufacturing company is an industry leader for its sustainable printing processes and for the energy-efficiency and renewable energy features in the building that houses it.
"As a manufacturer, we use a lot of energy," said Jessee. "So, I see it as our responsibility to our customers, our employees and the community to minimize our environmental impact."
Posty Cards underwent an extensive expansion and remodeling project beginning in 2009, and the end result was achieving Leadership in Energy and Environmental Design (LEED) Platinum certification in 2012. Sustainable features that resulted in this high-level certification include:
A 198-panel solar installation was installed that produced 45 kilowatts or energy, providing 11 percent of the building's energy usage. In 2014, incentivized by soon-to-expire rebate programs, Posty Cards doubled its solar array and now generates more than 20 percent of its electricity on site.

The remaining energy use is offset by Renewable Energy Certificates, meaning all the energy used by Posty Cards comes from a renewable resource.

A separate solar installation is used to heat the water used in the building.

A variable refrigerant volume heating, ventilation and air conditioning (HVAC) unit is 45 percent more energy efficient than traditional units.

The building utilizes natural light, reducing electric lighting needs.

A rainwater reclamation system collects 8,300 gallons of water for irrigation and flushing toilets, which uses low-flow plumbing fixtures.

Native plant landscaping and rain gardens surround the two-acre facility, reducing water and maintenance needs.

Carpeting that is 100-percent recycled is installed throughout the building offices.

Used furnishings were bought for the offices when available.

Annually, the company recycles 125 tons of paper, cardboard, plastic, aluminum and shrink wrap.
These improvements were made not only to help the energy efficiency of the company, but to help its business as well, Jessee said.
"When you look at the power of efficiency and minimizing waste, it just makes good business sense," he said. "Not only are costs reduced in the long-term, but our operation and our products are more sustainable."
Posty Cards also produces a special line of cards called Sustainable Sentiments, which were introduced in 2009. The cards are printed on 30- to 100-percent recycled paper with soy-based ink and 100-percent recycled paper envelopes. Customers can order birthday, holiday, thank you, anniversary, sympathy and Earth Day cards. All cards in the Sustainable Sentiments line have a "green" theme using images and colors most often found in nature.
Giving back builds a sustainable community
Posty Cards takes its commitment to sustainability beyond its manufacturing walls to include support of the community. It provides discounted printing to the non-profit organizations it supports and offers tours to school groups, businesses and non-profit organizations interested in green buildings and sustainable business practices. The company encourages employees to volunteer in the community and contribute annually to United Way. It offers employees the opportunity to join a community-supported agriculture program and receive fresh, organic food delivered to the office by a local farm.
"At Posty Cards we believe that our sustainability efforts need to include supporting the community that we are a part of," Jessee said.
Story continues on next page…