As the annual National Solar Tour goes virtual because of the COVID-19 pandemic, it offers a rare opportunity to "tour" solar projects across the country.
Beginning Monday, September 28 through Sunday, October 24, hundreds of homes and businesses powered by solar will showcase their energy savings at virtual open houses and tours in 47 states. The week includes a wide variety of events including sessions on electric vehicles (EV), energy and equity, community solar, how to find a certified installer and social events like EV Speed Dating.
The majority of solar tours will take place Saturday, October 3 through Sunday, October 4. To find a list of homes and businesses by city, go to National Solar Tour.
In the Kansas City metro area, two homes will be featured in virtual tours hosted by Heartland Renewable Energy Society.
Net-Zero Energy Solar Home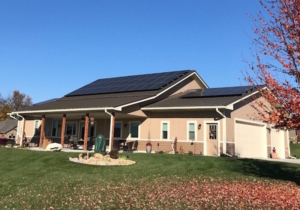 This 3,980 square-foot, three-year-old home owned by John and Jeanne Lueders was built in Weatherby Lake, MO with many energy-saving features and a 16.43 Kw roof-mounted solar system. It is considered net-zero energy because the 53 solar panels produce all of the energy needed for this all-electric house on an annual basis. The system is connected to the Evergy electric grid providing electricity when the sun is not shining, like at night. When the solar system produces more energy than the house uses, it is fed back to the electric grid, which offsets night-time energy use.
Additional energy-saving features include:
Three-foot roof overhangs to block out summer solar gain
All electric house (no fossil fuels, no wood burning, no fireplace)
2X6 wall construction with spray foam insulation
One-inch exterior rigid foam insulation continuous under siding
10-inch thick foundation walls with wall insulation on both the interior and exterior of the wall, plus 2-inch rigid foam outside and 3-inch closed cell foam inside
Double-pane, gas-filled windows rated for low-air infiltration
Four-ton ground source heat pump with two zones
Preheated hot water with ground source heat pump
Induction stove
400-amp electrical service
Total LED lighting
Garage wired for two stalls of level two electric vehicle charging
"People will want to know the pay back on a house that cost more to build than any in the neighborhood," John Lueders said. "The answer is we will get all the money back when we pass our worldly goods on to our kids. That's an answer that assumes housing in single family dwellings will continue to appreciate. That's a long view of payback that shows that I'm optimistic about solving the climate change crisis."
Passive Solar Home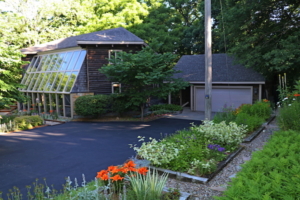 In 1979, Craig Wolfe built this passive solar home for his family in Kansas City, KS. Wolfe was the general contractor and went on to build more than 50 passive solar homes in the next decade.
The passive solar design includes 27 patio glass door units that cover an unconditioned greenhouse. It is separated from the home's conditioned areas by a brick and stone mass wall for thermal storage. During the summer the greenhouse is shaded at a 73-percent shade cloth. The wall construction is six inches with 2.5" of polystyrene on the interior structure for a total R-19 value. The vaulted ceiling uses seven inches of polystyrene for R-30.