This Election Day, all Kansas City metro voters can get a free bus, bike or streetcar ride to the polls on RideKC, and Jackson County residents can hop a free bus to Arrowhead Stadium to cast their ballots.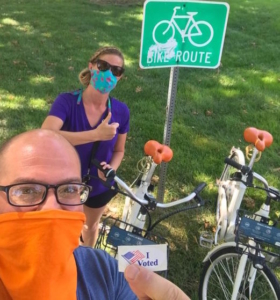 RideKC and Vote KC have teamed up to ensure that all RideKC routes (including paratransit) serving Kansas City, Johnson County, Wyandotte County and Independence, MO will be free on Tuesday, November 3. To get two free credits for bike rental, voters can download the RideKC Bike app and use the code BIKETHEVOTE20. The streetcar is free every day.
Kansas City, MO residents who live in Jackson County, MO can also vote at Arrowhead Stadium through a partnership with the Kansas City Election Board, Kansas City Chiefs, and Patrick Mahomes' 15 and the Mahomies Foundation. Voters who cast a ballot at Arrowhead will receive a Chiefs-branded "I Voted" sticker.
"One of the things that our players have been very passionate about for the past few months has been voter education. We have focused our collective efforts on making sure our players, coaches, staff and Chiefs Kingdom are informed and engaged when it comes to their right to vote," said Chiefs President Mark Donovan. "One of the ideas that came out of our many discussions around voter education was to use Arrowhead as a polling location."
Kansas City Area Transportation Authority will provide free bus shuttle service to Arrowhead Stadium from the KCATA stop at 12th and Charlotte streets in downtown Kansas City. The shuttle will run approximately every 30 minutes from 5 a.m. – 9 p.m. For those who drive, free parking will be available in Lot M. Voters will be directed to the Founder's Plaza entrance to access the polls on the CommunityAmerica Club Level inside the stadium.
Polls open at 6 a.m. and close at 7 p.m. All voting locations will require face masks and social distancing to protect everyone during the COVID-19 pandemic.
To find your polling place and check your voter status, Kansas City residents in Jackson County can visit the Kansas City Election Board. For other locations in Missouri, start with the Secretary of State's office.
In Kansas, Johnson County voters can access resources at Johnson County Election Office and Wyandotte County election information is available at Wyandotte County Election Office.  For those who live elsewhere in Kansas, information is available at Vote Kansas.
To confirm eligibility to vote at Arrowhead Stadium, visit your city or county's election website or KC Chiefs.
For help planning your RideKC bus ride to the polls, call 816-221-0660 and provide the starting address and the address of your polling place. Voters can also plan a trip with Google Transit trip planner through RideKC.