Brighten your garden with spring ephemerals and hardy perennials for blooms from March to May. After winter, pollinators are seeking nectar and pollen. You can add beauty to your garden with flowering spring plants that help pollinators thrive.
Here are 8 popular flowers that provide spring blooms, attract pollinators, and are native to Kansas, Missouri, and beyond. 
1.Spring Beauty (Claytonia virginica)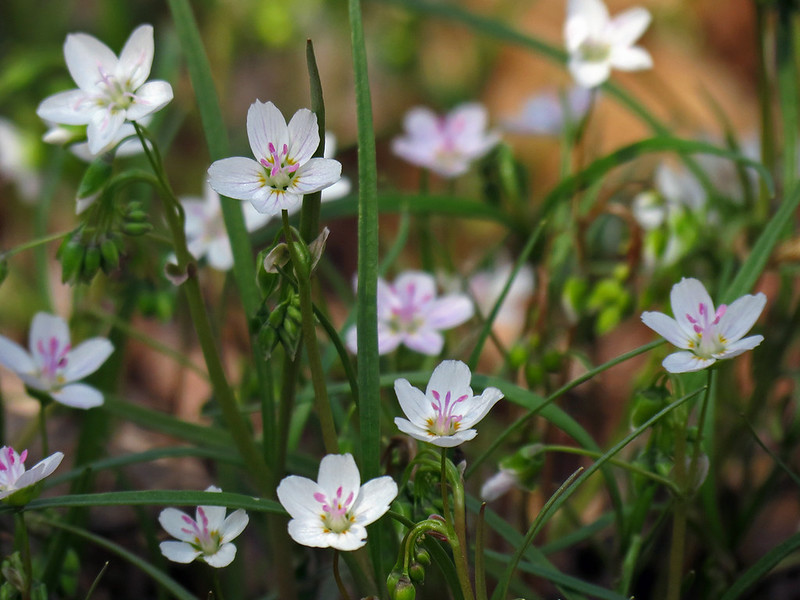 With early spring blooms in February-May, the delicate pink and white blooms of spring beauty can create a beautiful groundcover. The plant goes dormant soon after blooms, but does not leave a gap in the garden. It attracts native bees, and grows in part shade and moist soils.
2.Virginia Bluebells (Mertensia virginica)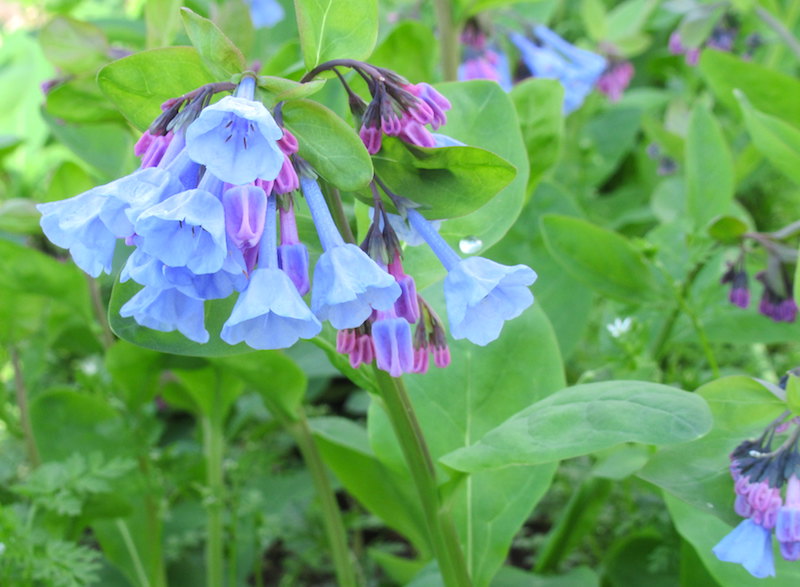 As a popular spring ephemeral, Virginia bluebells bloom in February-April and go dormant in summer. It grows best in clumps left undisturbed in moist, shady woodlands or native gardens. It grows 1-2 feet tall with showy blue trumpet flowers.
3.Downy Phlox (Phlox pilosa)
With blooms in February-April, downy phlox attracts bees, butterflies, and skippers to its clusters of fragrant lavendar flowers. It will grow 1-2 feet tall. It does well in full sun/part shade in dry, well-drained soil.
4.Roundleaf Groundsel (Packera obovata)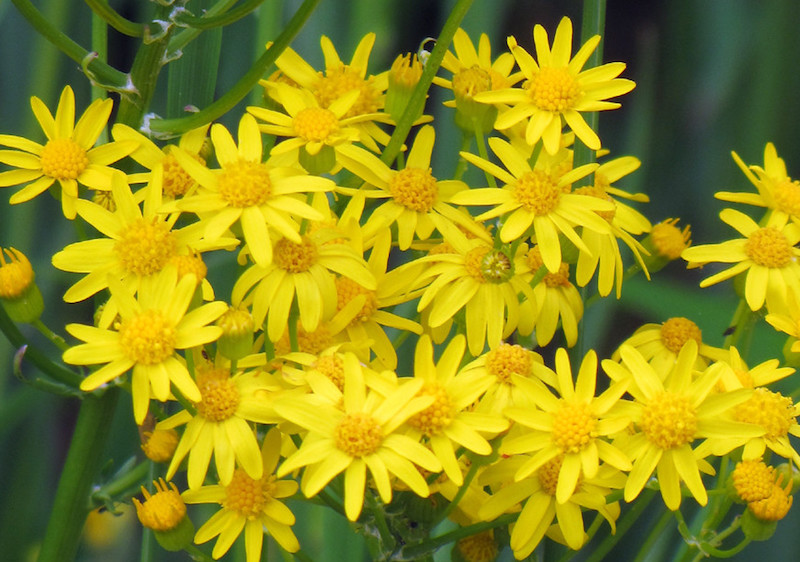 Roundleaf groundsel provides a nice semi-evergreen groundcover in the winter, and in April-May 1-foot stems rise with clusters of yellow flowers. Many bees, flies, and beetles use the nectar and pollen, and it is host to the northern metalmark butterfly. It does well in dry, shady spots.
5.Jacob's Ladder (Polemonium reptans)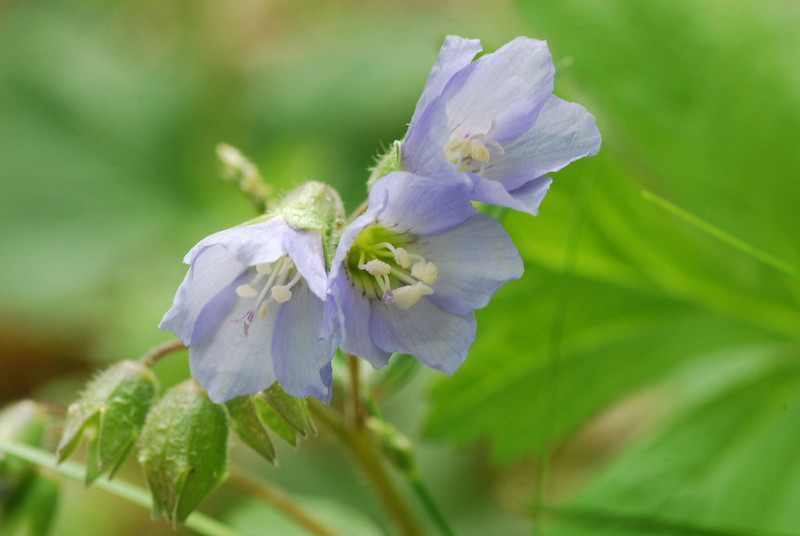 Jacob's ladder is a popular woodland plant with good foliage and delicate purple flowers. It blooms in April-May, and is a reliable source of nectar and pollen for early pollinators. The stems with clusters of flowers rise 10-20 inches. The foliage stays green all summer. It does well in partial shade.
6.Canadian Anemone (Anemone canadensis)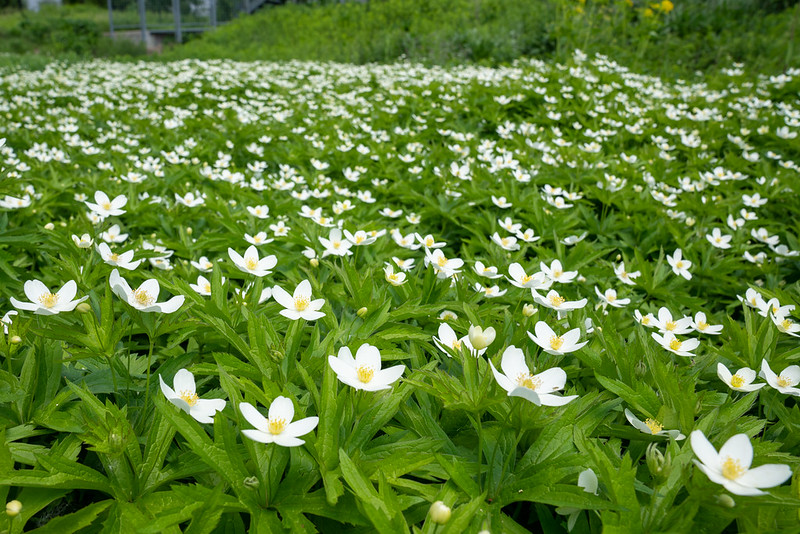 This leafy perennial features showy white and yellow flowers in May. Canadian anemone likes sun and wet soil, and can provide a nice groundcover growing 20 inches high and spreading 2-5 feet. It attracts early pollinators.
7.Golden Alexander (Zizia aurea)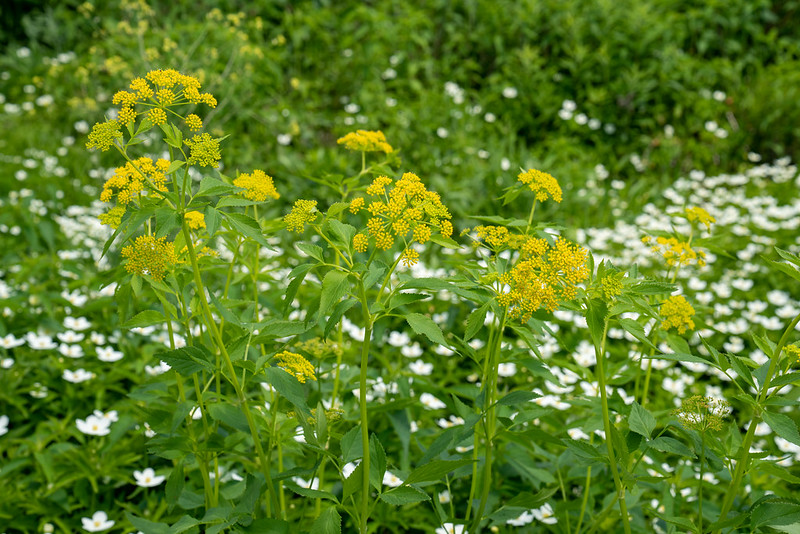 With blooms in late spring, golden alexander attracts pollinators and is a host plant for the Black Swallowtail and Ozark Swallowtail. Its features tiny yellow flowers on stems growing 3 feet tall. It grows in average moisture, well-drained soil in full sun to part shade.
8.Fringed Bluestar (Amsonia ciliata)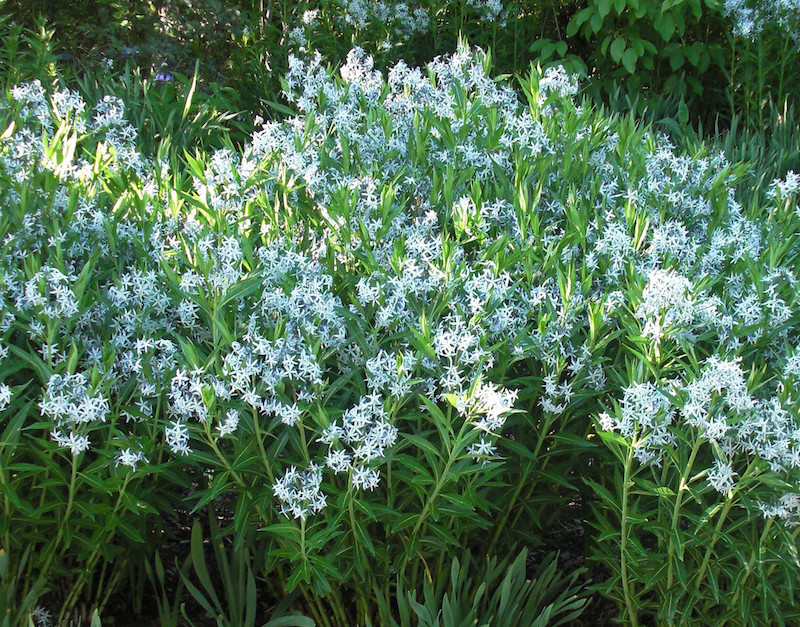 Fringed bluestar features silvery blue blooms in April-May, and provides green foliage in the summer up to 3 feet tall. In the fall, it turns into a nice shade of yellow. It likes to be planted in groupings in medium moisture, well-drained soil in full sun to light shade.
Explore more options for native plants with plant databases from Grow Native, Missouri Botanical Garden, and the Lady Bird Johnson Wildflower Center.
Getting started with native plants? Learn more at grownative.org and deeproots.org.
Photo permissions: