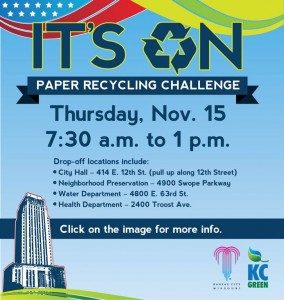 In honor of America Recycles Day, the City of Kansas City, Mo., and Jackson County, Mo., are challenging both their employees and residents to recycle. As part of this challenge, residents are welcome to recycle their paper products at a number of City facilities on Thursday, Nov. 15 from 7:30 a.m. to 1 p.m.
There will be a designated outdoor "drop-off" area at each participating location, so residents may simply drive up and drop off their paper. Locations include:
City Hall – 414 E. 12th St. (pull up along 12th Street)
Neighborhood Preservation – 4900 Swope Parkway
Water Department – 4800 E. 63rd St. (back side of the building, north lot, by the drop box)
Health Department – 2400 Troost Ave.
Residents who participate will receive an eco-pen and paper pad. A shredder will be available at the City Hall collection site for residents recycling confidential materials. All paper will be collected and recycled by Proshred, a paper shredding company.
Residents unable to participate in this event may also recycle their paper and other materials at the City's three recycling drop-off centers. The centers are open Wednesdays through Saturdays from 9 a.m. to 5 p.m. and are located at the below locations:
Three Trails Recycling Center – 9051 Hillcrest Road
Environmental Campus Recycling Center – 4707 Deramus Ave.
Metro North Recycling Center – 400 N.W. Barry Road