This weekend, the Kansas City Energy Solutions Homes Tour will feature three houses with the most energy-efficient options for LEED certified, net-zero energy, Energy Star and passive home designs.
The Heartland Renewable Energy Society (HRES) is hosting the tour from 9 a.m. to 5 p.m. on Saturday, October 3.
Ragsdale House
The home of Brent and Patti Ragsdale is a 2,000-square-foot, earth-contact house built to passive design standards with Structural Insulated Panels (SIPS) construction. It has a southern sunspace and 12-inch thick internal mass walls. The house is estimated to be about 70-percent more energy efficient than conventional construction. The exterior walls and attic have R-60 or greater energy-efficiency rating, and the slab is R-10. The windows are triple pane, low-e, argon filled for maximum energy efficiency. The lower level and part of the upper level are heated with radiant heat. The builder, Robson Custom Homes, incorporated reclaimed wood from a house that was deconstructed on the site. The house also features two rainwater cisterns that collect a total 3,200 gallons of rainwater for irrigating landscaping, vegetable gardens and a greenhouse.
The house is located at 17524 178th St. in Tonganoxie, KS and is open for tours at 9 a.m. and 11 a.m.
Homoly House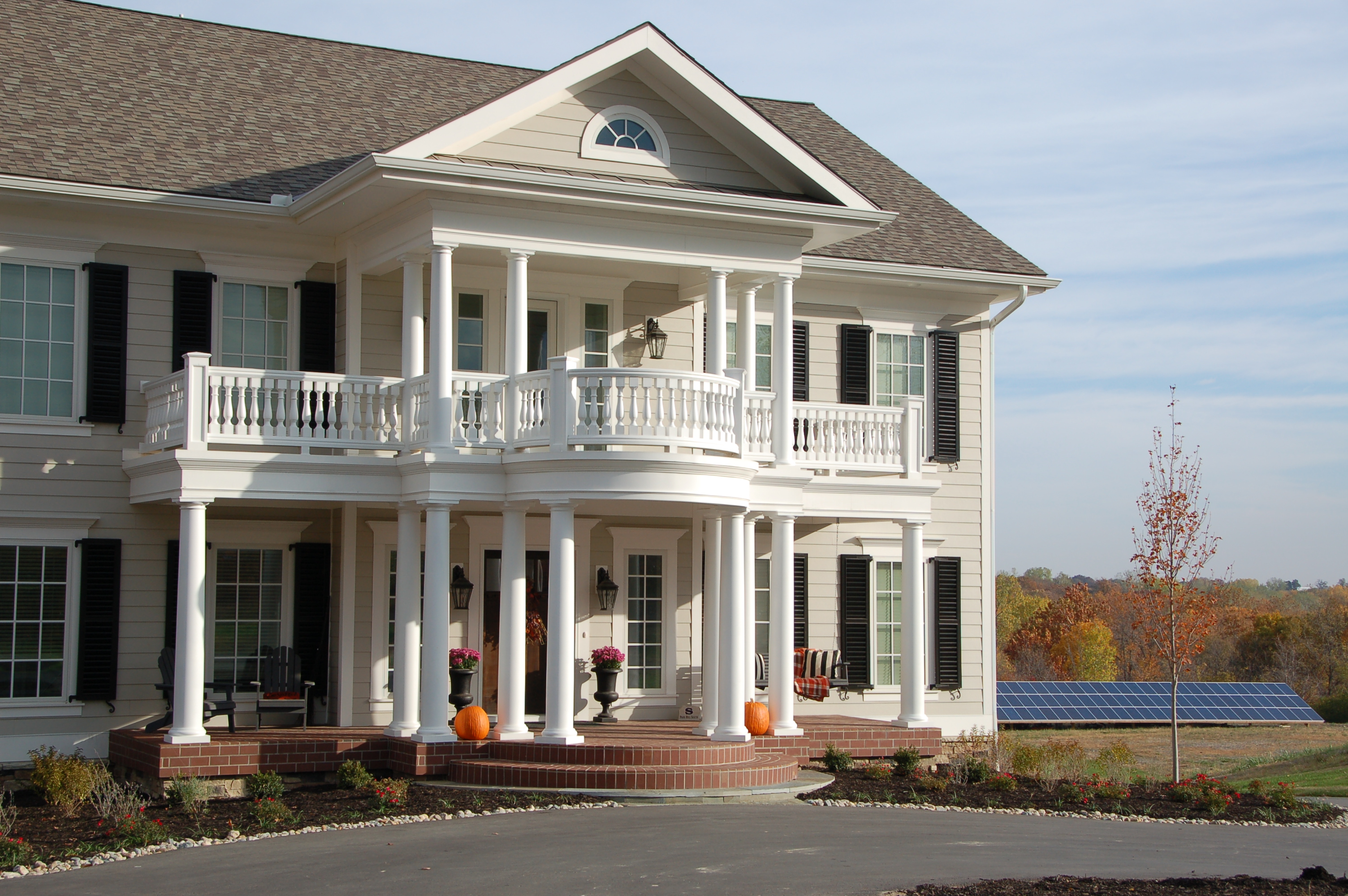 When Andy and Cathy Homoly built their new Parkville home in 2012, they wanted the highest level of energy efficiency — with no energy bills — in a traditional, southern-style house. Their 4,200-square-foot home is certified Leadership in Energy & Environmental Design (LEED) at the platinum level. The LEED for Homes program of the U.S. Green Building Council awards certification for houses that meet the highest levels of sustainability for energy and water efficiency, materials and resource management, indoor air quality, sustainable sites and other criteria. The Homoly home features a 25kW ground-mounted solar array, solar-powered heat pump, energy recovery ventilator, 1.5 kW wind turbine, micro-hydroelectric generator from pond to lower creek, R30 wall insulation and R45 roof insulation. A 1,500-gallon cistern captures rainwater for flushing toilets. Homoly Construction built the house and Homoly Solar installed the renewable energy features.
The Homoly house is open for tours at 11:30 a.m. and 1:30 p.m. at 6401 NW Monticello Drive in Parkville, MO.
Urban North Model Home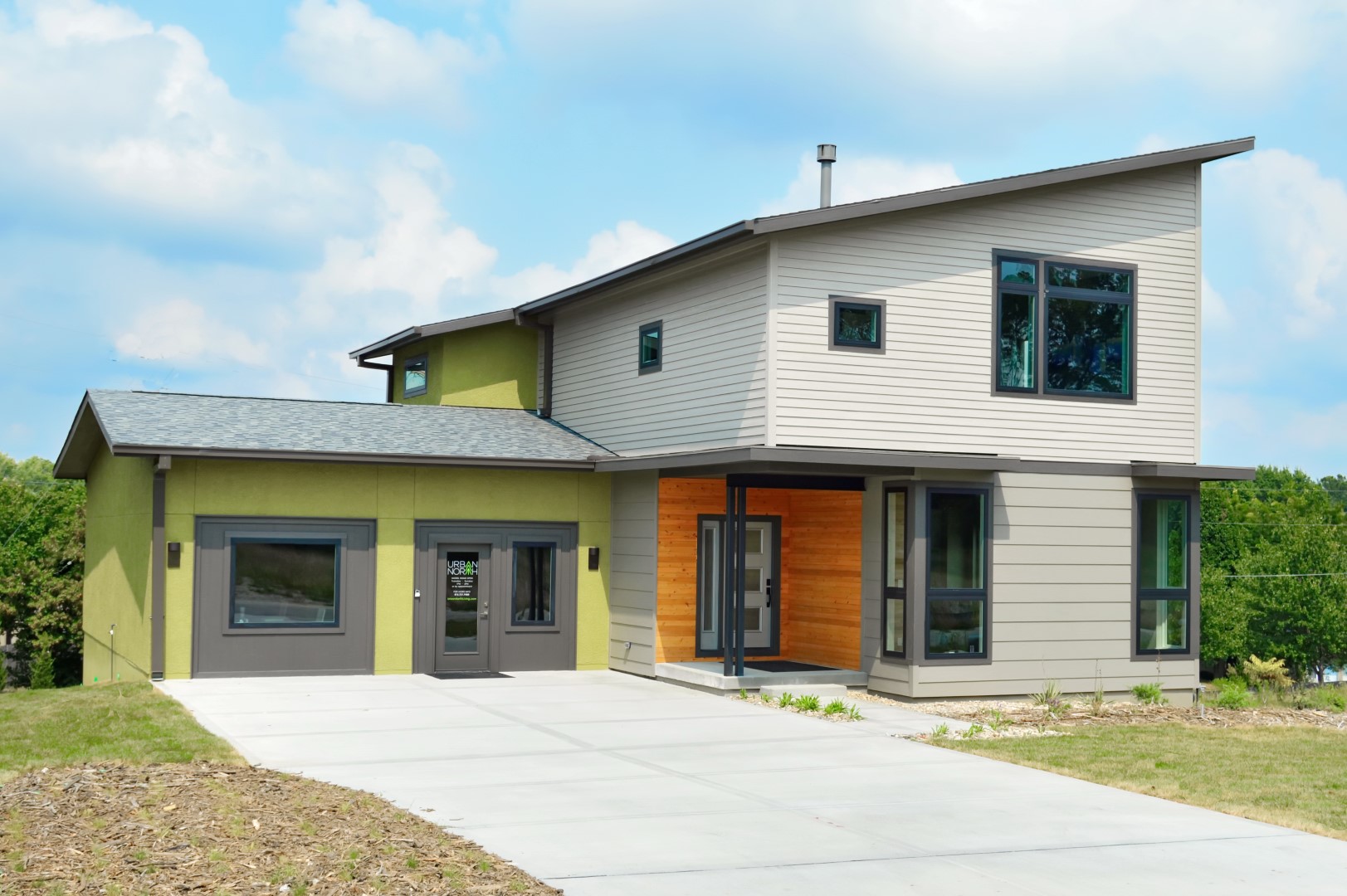 The model home at Urban North will be open for guided tours that showcase the new residential development of energy-efficient, sustainable single-family housing. The Northland subdivision of 24 home sites is expected to be the area's first new development where all homes meet LEED certification and receive the ENERGY STAR for New Homes rating certification administered by the U.S. Department of Energy. The first silver-level LEED certification is expected soon. The house sizes range from 2,068 to 2,920 square feet, and each home is projected to be 50 percent more energy efficient than a comparably sized existing house. Each site has a 540-gallon rainwater collection system for lawn and landscaping irrigation. Refined Developments is the project developer and Owen Homes is the builder.
The Urban North model home is open for tours at 1:30 p.m. and 3:30 p.m. at 404 NE 100th St., Kansas City, MO.
Organizers have divided the tour into two shifts beginning at 9 a.m. and 11 a.m. to allow participants time to visit all three houses. Tour tickets are $5 for three houses, or $20 for house tours with an optional, pre-ordered box lunch from The Sundry. Lunch will be available at the Homoly house. To pre-register, order lunch, get directions to tour locations or get more information, go to HRES.