By Jeff Turrentine, Natural Resources Defense Council
A guide to decoding the government's tip sheets for buying the most energy-efficient appliance.
The good news: Inflation is finally cooling. The not-so-good-news: Your electric bill probably hasn't gotten the memo yet. According to the U.S. Energy Information Administration (EIA), U.S. households have seen their electric bills rise this summer by an average of about 2 percent over last summer's bills.
Regardless of what the economy is doing, choosing the most energy-efficient appliances isn't just good for the climate: It's also one of the simplest ways to save money. Many manufacturers these days advertise the energy efficiency of the various dishwashers, air-conditioning units, clothes dryers, etc., that they're trying to sell us, but given that energy efficiency is a relative term, what do those labels mean, exactly?
Two programs administered by the federal government—EnergyGuide and Energy Star—help put energy efficiency into perspective. Though they're separate from (and frequently confused with) one another, they work together. Here's what they are, and how they operate in tandem to give you a better idea of the savings you'll see in both dollars and carbon emissions when replacing an outdated appliance.
EnergyGuide
If you've ever shopped for a new refrigerator, dishwasher, air-conditioning unit, or other large-ish household appliance, you've probably seen the canary yellow "EnergyGuide" tag listing information about the appliance's energy consumption. If you're like many consumers in the market for a new appliance, you may have other things on your mind at that moment: style, size, and price being chief among them. It's true that the most energy-efficient products can be more expensive than their less efficient counterparts (although usually not by that much!). But it's also true that, over time, choosing one of these home appliances will save you considerable amounts of money on electric bills. The U.S. Department of Energy estimates that the average U.S. household spends up to $2,200 a year on energy costs, but maximizing energy efficiency in the home can cut these costs by as much as 25 percent.
The EnergyGuide tag is essentially a public energy efficiency report card administered by the Federal Trade Commission (FTC). It doesn't apply to every single appliance category on the market, but under the 1975 Energy Policy and Conservation Act, manufacturers are required by law to make the EnergyGuide tag visible to consumers.
The FTC updates the tags every five years to reflect any advances in technology, revisions to federal minimum energy efficiency standards set by the U.S. Department of Energy, and changes in the national average cost of electricity. The last update took place in October 2022 and started appearing on tags in mid-2023—which means that any tag you see in 2023 or 2024 is up-to-date.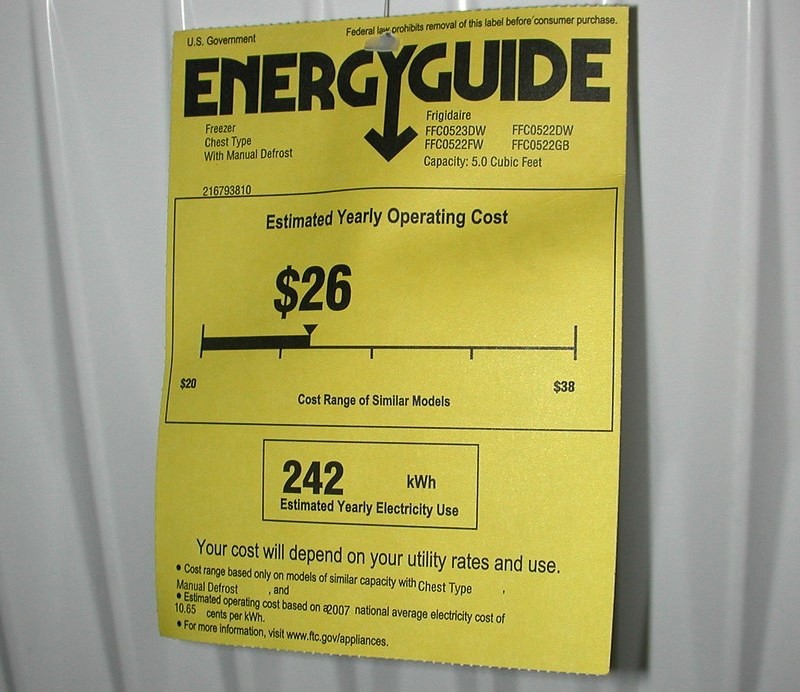 Energy Star
In the bottom right-hand corner of many (though not all!) EnergyGuide tags, you'll find the Energy Star logo. It's provided without any context or additional information—which is a shame, because consumers might miss its significance.
More than 30 years ago, the U.S. Environmental Protection Agency (EPA) launched the Energy Star program to encourage manufacturers of computers and home appliances to go above and beyond meeting the minimum energy efficiency standards set by the federal government. Since its start in 1992, the program has expanded considerably: Today, Energy Star certification is available not only to home appliances and computers but also to the homes and apartments that contain them, as well as to commercial buildings and even industrial facilities. Between its certification program and its related rebate program, Energy Star can boast that it has saved 5 trillion kilowatt-hours of electricity, avoided more than $500 billion in energy costs, and kept more than 4 billion metric tons of polluting and planet-warming greenhouse gases from entering the atmosphere.
The idea behind Energy Star is simple. The EPA sets and frequently updates energy efficiency specifications across a spectrum of products and buildings. Manufacturers and developers that meet these standards—as determined by an independent third party—get to display the logo on their products. And finally, consumers and business leaders who care about their climate footprint get to use this information when making their choices.
Unlike the EnergyGuide program—which requires participation from all manufacturers—Energy Star participation is voluntary. With that said, most major manufacturers are more than happy to take part: Over the years, the Energy Star certification logo has become a highly desirable imprimatur, a way for appliance makers to broadcast their commitment to promoting energy efficiency to the general public.
According to the EPA's Shayla Powell, Energy Star specifications "are routinely reviewed and updated to ensure that they provide meaningful differentiation for highly energy-efficient products," as well as to "help to increase the share of energy-efficient products in the marketplace." The rapid rate of development in energy efficiency technology means that these updates are taking place almost constantly. The results speak for themselves. Today, an Energy Star–certified washing machine uses 20 percent less energy than an uncertified one. Dryers bearing the logo consume 30 percent less. Amazingly, an Energy Star refrigerator with the freezer on the top (the most energy efficient of all fridge designs) can require less energy than a 60-watt incandescent light bulb.
Powell notes that Energy Star released revisions for residential dishwashers in 2022. This year will see revisions for residential electric cooking products, clothes dryers, dehumidifiers, and refrigerators. (Up next, in 2024: washing machines!) On the Energy Star website, she says, consumers can click on a Product Specification search tool to find the most up-to-date specifications for all appliances covered under the program, as well as information on rebates and tax credits. And to maximize your dollar, Energy Star's Rebate Finder allows you to plug in your zip code to see how much money you can get back after buying a certified appliance in your area; savings can be as much as 30 percent.
---
This story was originally published by the Natural Resources Defense Council and has been republished with permission.