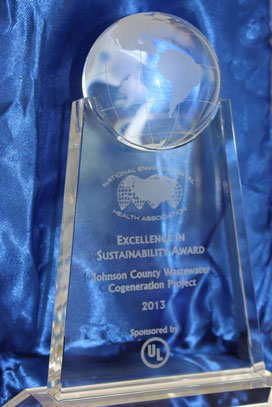 A cogeneration project that uses methane gas from the digestion of restaurant fats, oil and grease, is helping Johnson County Wastewater (JCW) generate enough electricity to power half of the Douglas L. Smith Middle Basin Treatment Facility.
As one of the biggest consumers of electricity in the county, JCW is saving approximately $250,000 per year through on-site power generation. The project makes beneficial use of methane and restaurant by-products that were previously treated as wastes.
For its efforts, JCW was recently awarded the NEHA Sustainability Award by the National Environmental Health Association. The award recognizes organizations, businesses, associations and individuals solving environmental challenges by using innovative and environmentally sustainable practices.
The $18.3 million project was funded through the American Recovery and Reinvestment Act, with nearly 50 percent eligible for principal forgiveness. The U.S. Environmental Protection Agency was the lead federal agency on the project, and the funds were administered by the Kansas Department of Health and Environment.
JCW is responsible for the collection, transportation and treatment of wastewater generated by its residential, industrial, and commercial customers. The system infrastructure runs underground, serving more than 90,000 properties and approximately 440,000 people.